Shell Lubricants has introduced Shell Rotella T Synthetic 5W-40 heavy-duty motor oil, which meets or exceeds API CJ-4 specifications. The motor oil offers significant improvements in wear protection, soot control, deposit control, heat resistance and protection in extreme climates. Shell Rotella T Synthetic 5W-40 can also provide enhanced fuel economy versus conventional 15W-40 motor oils.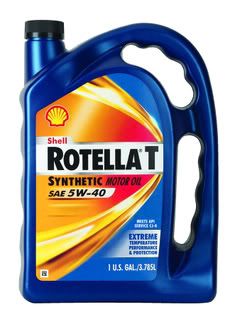 "As global leaders in the development of innovative motor oil technology, Shell Lubricants is committed to offering the most advanced and efficient products," said Steve Harman, president of Shell's U.S. lubricants business.  "Shell Rotella T is one of the most well-respected diesel motor oils in North America and the new Shell Rotella T Synthetic 5W-40 continues to demonstrate our leadership in this vital market."
The advanced multi-functional dispersant additives and synthetic base oils in Shell Rotella® T Synthetic  5W-40 provide an enhanced level of protection against the effects of soot, dirt and other contaminants which can cause engine wear and deposits.  Shell Rotella T Synthetic 5W-40 also resists breakdown by heat for better protection under high temperature or severe operation.
"In seven out of seven standard engine tests that measure wear, compared to the previous formulation, Shell Rotella T Synthetic 5W-40 has demonstrated an average of 34 percent improvement in wear (ranging from 2 percent to 90 percent), with substantially improved protection against cylinder liner wear," said Walt Silveira, North American technical manager for Shell Lubricants.  "This is a significant benefit when a truck is used for low-speed operations, such as hauling heavy loads."
Through increased levels of high-performance ashless chemistry that help keep soot particles separated, Shell Rotella T Synthetic 5W-40 protects against oil thickening caused by soot and other contaminants.  This helps keep the motor oil flowing for good start-up and under all operating conditions.  Shell Rotella T Synthetic 5W-40 provides up to a 36 percent improvement in soot control at typical motor oil soot levels.
Shell Rotella T Synthetic 5W-40 formulation is compatible with the exhaust after-treatment devices such as diesel particulate filters (DPF) found on heavy-duty trucks built beginning in January 2007. The low-ash formulation helps control the rate of DPF blockage and potentially extends DPF maintenance intervals compared to previous generation oils.  Shell Rotella T Synthetic 5W-40 is also suitable for heavy-duty diesel engines built prior to 2007.
Shell Rotella T Synthetic 5W-40 can help improve fuel efficiency up to one percent compared to conventional 15W-40 motor oil through decreased friction and by reducing the energy used to pump the motor oil through the engine.  For a typical truck traveling 100,000 miles per year, a savings of up to 140 gallons per year, or $532 (based on paying $3.80 per gallon of fuel and fuel consumption of seven miles per gallon), may be realized.
"As diesel fuel prices continue to increase, the ability to offer potential fuel savings and increased engine protection may make spending a little more to buy a synthetic motor oil worthwhile," said Silveira.
Shell Rotella T Synthetic 5W-40 also offers extreme temperature benefits by resisting breakdown due to the high heat common in many of today's engines.  Compared to conventional 15W-40 motor oil, Shell Rotella T Synthetic 5W-40 offers up to 70 percent improvement in oxidation protection and demonstrated up to 81 percent less deposits than the average CJ-4 15W-40 results in the Komatsu Hot Tube Test.
In severe cold conditions, the free-flowing base oils in Shell Rotella T Synthetic 5W-40 allows for reliable pumping on start-up at temperatures as low as -30F.  This is important as modern fuel and ignition controls reduce the time it takes to start your engine; so fast oil flow to the upper deck of an engine can be critical in cold temperatures.
Meets On- and Off-highway Manufacturer Specifications
Shell Rotella T Synthetic 5W-40 meets or exceeds the API CJ-4 requirements for Cummins CES 20081, Caterpillar ECF-3, ECF-2, Detroit Diesel 93K218, Mack EO-O Premium Plus, Mercedes-Benz Approval 228.31, and Volvo VDS-4.  Shell Rotella T Synthetic 5W-40 is also suitable for off-highway applications where 500ppm diesel fuel is used.  The high-TBN formulation gives added protection in off-highway or for extended oil drain intervals.
Availability of Shell Rotella® T Synthetic
Shell Rotella T Synthetic 5W-40 will be available in bulk, drums, gallon, and quarts beginning May 19, 2008.  For more information about Shell Rotella T Synthetic 5W-40, visit www.Rotella.com.
About Shell Lubricants
The term 'Shell Lubricants' collectively refers to the companies of the Shell Group engaged in the lubricants business.  Shell lubricants companies are global leaders in lubricants and operate in approximately 120 countries worldwide. They manufacture and blend products for use in a range of applications from consumer motoring to food processing and heavy industry to commercial transport. The Shell portfolio of top-quality lubricant brands includes Pennzoil, Quaker State, FormulaShell, Shell TELLUS, Shell CASSIDA, Shell ROTELLA T, Shell SPIRAX and a portfolio of car care products and Jiffy Lube services.