Think that motorhomes are bad for the environment? Think again. It's one of greenest lifestyles available.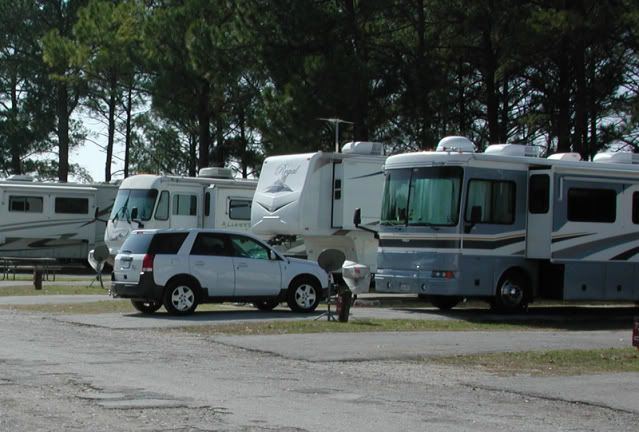 Fans of recycling and low-impact living take note: life in the RV is all about efficiency. This is not by choice (though it's one I'd have made on my own anyway) but necessity. It may be a very large vehicle, but a 34-foot motorhome is pretty small for a building. It's possible to be perfectly comfortable in our modest square footage, but it requires unlearning a lot of habits built after a lifetime of living in our big, American three-bedroom ranches.
Our wardrobe consists of one closet, two small cabinets and eight drawers. That's it, for both of us. No walk-in closet on the Incorrigible. We had to decide very carefully which clothes we brought with us, and a lot of what didn't come along was purged. Moving into the RV dictated a lot of interesting consideration as to what one really needs to get by and be happy. The tiny wardrobe is just fine, because there's even less space for dirty clothes storage. Laundromat trips are going to be a frequent necessity. Luckily, our hamper holds exactly one washload of garments so we're not stuck waiting on machines for very long. (In fact, this dispatch was inspired while we sat in a Laundromat. Lexie was ill last week, so we're washing all of the bed linens now that she's feeling better.)
The average home has a forty- or fifty-gallon hot water tank. The Incorrigible has six. Those long, hot showers I used to take every morning are a thing of the past. Oh, and running the hot water heater requires LP gas, of which we've only got twenty-four pounds on board. That gas also has to cook our food and run the furnace, so we keep the hot water heater turned off until we need to heat up the water for a specific purpose, like showering or doing dishes. When the shower's running, many RVers will be familiar with the process of turning the water off while lathering up or applying shampoo or conditioner. Anything that doesn't explicitly require water flowing from the faucet is done with the water turned off, so as not to waste the precious hot water supply.
This same frugality applies to water usage. When not connected to an outside water source, the Incorrigible only carries a hundred gallons of fresh water. Seems like a lot, but it doesn't last forever. Even with an efficient three gallon/minute showerhead, that's barely enough for three ten-minute showers. Not only will our freshwater be quickly used up by frivolous wastage, it also means more frequent trips to the sewage dump station, since all of the RV's wastewater is self-contained.
The little compromises we have to make have made us much more aware of the impact we have on the environment, not just in terms of the gasoline our cars burn but in every aspect of what we do. The environmentalist in me is happy, because we're definitely using less electricity, water and fossil fuels with this new lifestyle.